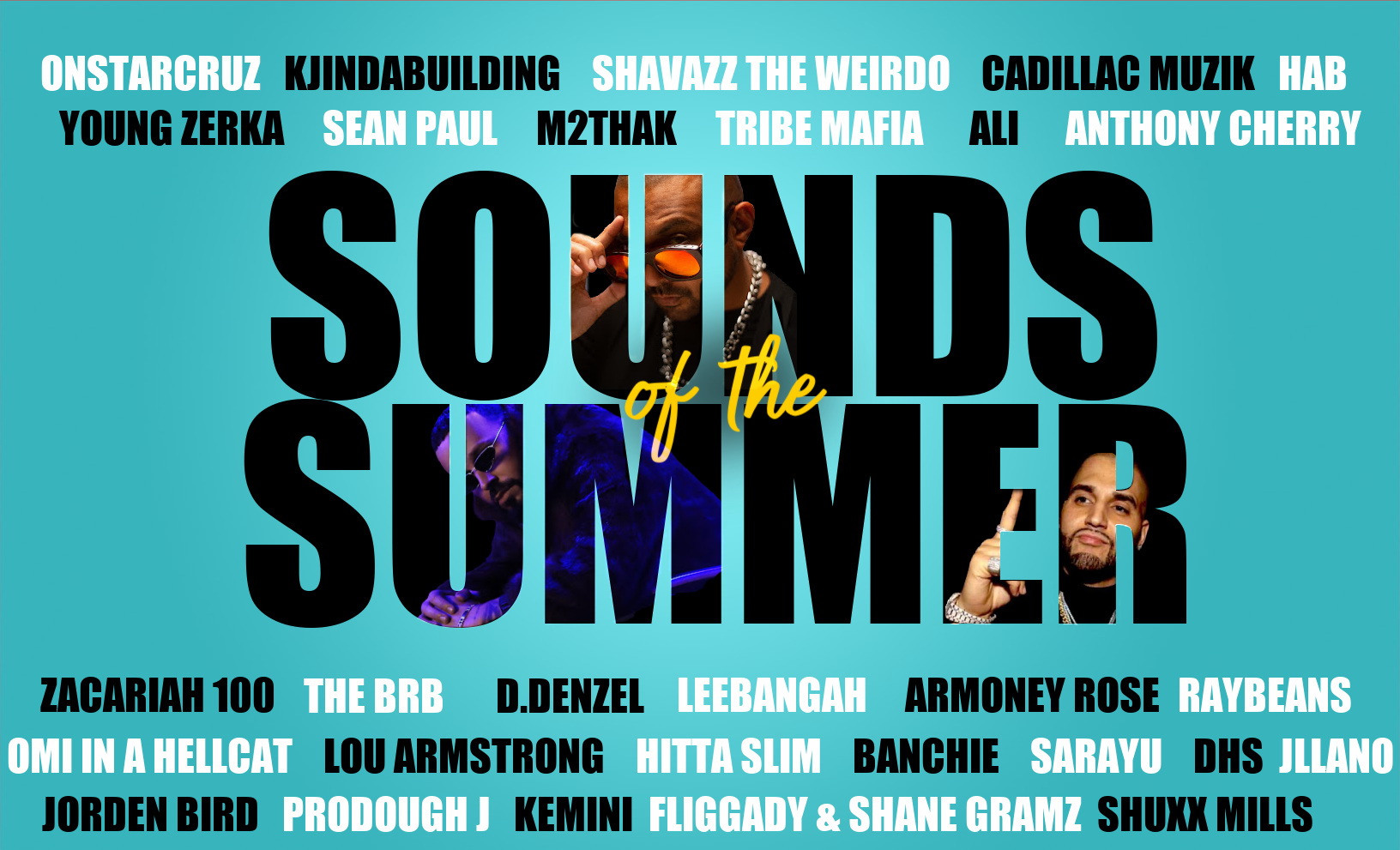 *Original chart released via This is 50 on July 31, 2021 – New York, USA* 
We expect nothing less than good vibes as the summer peaks. Notorious artists for hit records, such as Sean Paul, Omi In A Hellcat, Lou Armstrong, Hitta Slim, Young Zerka and M2thak, are introducing your next favorite hits this summer. Below are artists, both iconic and rising talents, that have released what we believe to be the top sounds of the summer. 
Ali (SomeArabGuy) – "Mona Lisa" feat. French Montana: Currently one of the highest ranked artists hailing from Michigan, Ali aka SomeArabGuy, turned heads with his history-making single, "Mona Lisa" featuring French Montana. Achieving one million streams within 24 hours of its release, "Mona Lisa" spread like wildfire, reaching over 20,000 Spotify playlists on its own. This May, the serial entrepreneur launched DX8 (Delta 8) Cryptocurrency backed by cannabis, with a $1 million market cap within the first week of launch. | @somearabguy 

Anthony Cherry – "J-Lo": This hip and catch song "Jlo" without the doe was released June 24, 2020! Anthony Cherry dedicates this song to all the Gold diggers that's bad but broke and looking for their next Cash cow.The gold diggers have no intentions to love only to cash out.Having that Jlo swag,looks and sauciness is the ultimate Gold diggers goal,But the real  "jlo" has her own doe.Making the  others a "jlo without the doe" | @anthonycherryofficial
Armoney Rose – "Baddest in the World Remix"  feat. The Game: The Detroit native shocked audiences with the release of his single with the iconic rap artist The Game. | @armoney_rose 
Banchie – "So Long": You are now hypnotized with a new single & video from Banchie! Check out the new track from his EP "Trance" coming to you soon and also available on all media platforms! The video was directed by J-Tech and the song produced by J. Patterns. | @jtechtck @b.a.n.c.h.i.e
Cadillac Muzik – "SpaceCowboy": Texas-Based Psychedelic Soul/Funk music collective Cadillac Muzik takes you into a future funk extravaganza with their new project "SpaceCowboy". Caddy Muzik spent the majority of their earlier career in the genres of Alternative & Southern Soulful Hip Hop. However, the last few projects they've released have blended several genres and styles. Playa Innovators, Stayin Alive, Fleetwood Blues, and O.G. Style all bounce in-between Alternative Hip Hop, Funk, Psychedelic Soul, R&B, Pop, and Rock… Once again, the collective decided to team up with the talented multi- instrumentalist/super producer Moonshyne Brown to create something even more Psychedelic and genre-bending. This cut gives you the feel of Southern Hip Hop, yet takes you on an exalted intellectual journey into innovative Rock and Psychedelic Soul. The band says they were very inspired by Prince, Pink Floyd, and Lenny Kravitz as kids. With 9 independently released EP/Albums under their belt and over 5 single releases, the collective does not plan on stopping anytime soon. This is only the beginning for them… | @cadillacmuzik
D.Denzel – "Spread Love": D.Denzel just released a hot new album titled "Welcome to the JNGL" on his birthday, July26th. It features several hit singles including "Spread Love". Check it out now and make sure you visit his website for merch and updates.| @D.Denzel38 
DHS – "Stove": Out of West Philadelphia, Mr. Mossberg Banga who's an entrepreneur is the founder and owner of the record label Hilltop Coalition1 Entertainment. Determined to put out good music as a solo artist he also took the initiative to keep his close friends/family alongside him along the way. Mr. Banga has been one fourth of the group Dark Hustlaz Society for the past decade and a half. The group composed of Mr. Banga, L Crock, Loc, Sam G, and the late J Curtis who was called home from his savior 7 years ago. Ever the multi-taskers, DHS (Dark Hustlaz Society) is on a mission to affect change to bring the sound back to the hilltop the mecca of Philadelphia hip-hop where it started. Artists like Steady B, Cool C, DJ Tap Money, man Called Lux, E Marbles and JoJo, Da Youngstas, and many more The Great LG the Teacher has inspired. Gold and Platinum hits consistently is a destination DHS will have to keep alive with the help The Great LG the Teacher son Quaraan Goodman (QBALL). EP's coming soon!!!!! Check out "Stove" now!!! | @MrBanga63_real_mosbergbanga
Fliggady & Shane Gramz – "FL Shane": Fliggady

is on a roll with his consistency yet again releasing his new visual called "FL Shane"featuring West Side Buffalos Own Shane Gramz, produced by BSF's own Flexx Beats. Everyone be on the lookout for Fliggs upcoming project releases (No Auto) & (No Auto 2) Coming soon 2k21 Continue on being great supportive there are a lot of surprises on the way stay tuned! | @Fliggady
Hab – "Drowning": When I make music it's always about things I went through in my life or what i got going on at the moment , that's exactly what "Drowning" is i spoke from my soul and i know somebody out there felt the pain i felt before when they hear the song they gone relate. |@Habholic_
Hitta Slim – "Jackhammer": Sick Wid it Records artist Hitta Slim is taking the world by storm with his new song titled "Jackhammer"which also includes a very distinct dance. This song and dance has captured every race and every age group around the country. This song contains positive/motivational vibes along with a celebratory dance. We have seen everyone from your average citizen to platinum recording artist doing the Jackhammer. In the words of Hitta Slim, he is proud of you all. Hit the Jackhammer and stream this record immediately. | @hittaslim1
Jllano – "BIWO": Im Jllano aka Llano Im originally from Brooklyn NY, I'm 28 and Im in love with music. I always played around with rapping and free styling my whole life but, from 2019 I really started to take music serious. I watched a friend of mine, William Aston, do music in HS always thought that he was dope then around 2018 my homie ,Northside Ty, asked me to hop on a track and he genuinely liked my verse so I decided in 2019 to make my own tape which was 2020. While setting a release date I introduced myself to boss of Hilltop coalition and they signed me and release the tape under the label. After I released 2020 I got some good feedback which gave me the extra push I need to continue to work. So now I'm working on my first EP, my next Album and just making sure it's quality because I got 100 songs but as a artist you know what's hot and what's not and I just wanna give people what they need…..good music. | @1914premier 
Jorden Bird – "Magic Wish" – In life we all have our unique journey. Our progression is dictated on how well we adapt and overcome our hardships. No matter what, our "impossible" is possible. With an understanding and gratitude that our daily blessings bring, they will continue to shower. | @JordenBird_ 
Kemini – "Cross The Line" – Rising artist Kemini just dropped a hot new album titled "Vendetta" featuring the hit single "Cross The Line". Check it out now and follow him on social media for his latest releases. | @YouHeardKemini
KJindabuilding – "No Photos": "No photos" is the latest single off my album Wav control. The song is basically the idea of being in the shoes of a celebrity. Always dodging paparazzi and surviving in the public eye. The song features my homie Awol ant and the video is now available on YouTube. | @kjindabuilding
Leebangah – "Hot Boy": Charlottesville Va's Own Rising Star Leebangah has being making it mark in the industry for sometime now, but in this last year even during the Pandemic he has dropping a new body of work which has taken the game by storm starting with his New Single "Hot Boy" which is in rotation on seven radio station an trending Worldwide and on YouTube an other media outlets. Leebangah has two other records as well "All On The Line" and "Off The Porch " which are hitting the airwaves and clubs in heavy rotation. Leebangah is a humble man and father figure in his community and is thankful for his team,fans and the doors that are opening up in his career. | @leebangah 
Lou Armstrong – "Get You That Bag": Boston's Mayor Lou Armstrong drops this fire new track "Get You That Bag" to show that even tho he a vet on the cities music scene he deff still can stay dated and go bar for bar with these new age cats. This song has a real new york drill feel but its cleverly aimed at the ladies like a strip club anthem, which in new england he is known as the strip club king. | @louarmstronghm
M2thak – "Speak": M2thak is a celebrity YouTube prankster and social media influencer. He gained popularity for original public pranks and social experiments, and is considered one of the pioneers of the platform. M2thak is also signed to SODMG Records and has been a confidant and business partner to Soulja Boy since 2008. With all the experience in the social media world, M2thak is now the director of brand partnerships and influencer operations for Monster Inc. M2thak is truly the goat and someone you definitely want to get familiar with. Check out his dope new single "Speak" now! | @m2thakshow
Omi In A Hellcat – "Sense": Omi in a Hellcat is a globally established businessman, entrepreneur, artist, YouTuber, and social media influencer. The multi-talented mogul continues to impress and inspire others with everything he does. Make sure you check out his new music and clothing line "Reloaded Merch" now! | @omi_in_a_hellcat
Onstarcruz – "Tuff Luv": "Tuff Luv" is a summer anthem destined to reach greatness. Onstarcruz's auto tuned vocals over the high intensity beat creates an infectious vibe as he speaks his truth like never before. "Tuff Luv" speaks to Onstar's fast-paced lifestyle, rockstar demeanor and desire to have someone to share his success with, without having to worry about conceited, cocky energy. He is a star in the making! This record is proof! | @Onstarcruz
Prodough J – "Small Talk" – Songwriter, rapper, engineer, producer Prodough J (pronounced Pro-dough-J) born Nassir Evanson will be recognized as one of America's promising young artists in the world of hip hop and R&B and is inching his way to the forefront as a mainstream performer of the 21st century. Check out his new hit singles "Small Talk" and "Catch a Vibe" now. | @ItsProdoughJ
Raybeans – "Crystal Boy": This is a song about me and my crystals. Young Man from Albany New York having genuine fun. Check it out now! | @IamRayBeans
Sarayu – "Nostalgia": Sarayu is the next big R&B pop star coming out of San Diego, California. Her latest single Nostalgia takes her original sound to new heights where her impeccable vocal range reaches new heights. This sultry, uptempo single is The perfect summer record as it makes you feel like you are floating into the cosmos riding down the PCH coast. Sarayu has yet another fire record under her belt as she continues to work on her forthcoming EP. She has a sound like no one else and this record is a direct reflection of her hard work and determination to make a mainstream recording artist. Nostalgia is a song that anyone can listen to as it is destined to reach the masses worldwide. | @sarayuuuuu
Sean Paul – New music: With an album in the works, Sean Paul is here to present a full length album full of energetic summer hits. He is iconic for his hits like "Temperature" and "Get Busy" and has influenced the mainstream music industry for decades. | @duttypaul
ShaVazz The Weirdo – "Love You Better": Love You Better is an all around versatile track that has got the attention of many different ears from the elderly to the kids. The concept of the song itself is enough to hook anyone in and if that didn't do it then the beat will definitely get the job done. We all have dealt with heart break Love You Better takes you through ShaVazz The Weirdos heartbreak step by step. | @shavazztheweirdooo
Shuxx Mills – "Bucks": Coming off his music video release for the hit single 'Case', which received high reception and praise, Toronto rap artist Shuxx Mills and collective HNTRS CLUB is back with his latest release, Bucks (produced by Iiimpala). An origin story of sorts we learn more about Shuxx Mills, the highly elusive artist from North Toronto, over a rhythmic, bass thumping beat. A catchy single, the longtime collaborators Shuxx and Impala continue to build that chemistry with every release. Bucks is a hard hitting street anthem for the new Toronto, utilizing influences from the past Shuxx Mills has found a way to present an identity that is primed for global success, setting his intentions clear we are sure to see the rising artist become a staple in a city full of breakout acts. "To be a true artist I gotta tell my story, my truth and that's what we doing with every release, reminding myself of how far I want to go and putting that work in" – Shuxx Mills | @internationalmillz Keywords:Young Zerka, sean paul, sounds of the summer, this is 50, ,
The post Thisis50 Features Sounds of the Summer: Sean Paul, Young Zerka, M2thak & more appeared first on Verna Magazine.