With a thrilling 4-1 win away to Valencia at Mestalla, Barcelona will finish the weekend within the La Liga Top 4 for the third week in a row. Barcelona produced a near-flawless first half to take a three-goal lead, then controlled the second half to take all three points at one of the country's most difficult venues. What a triumph.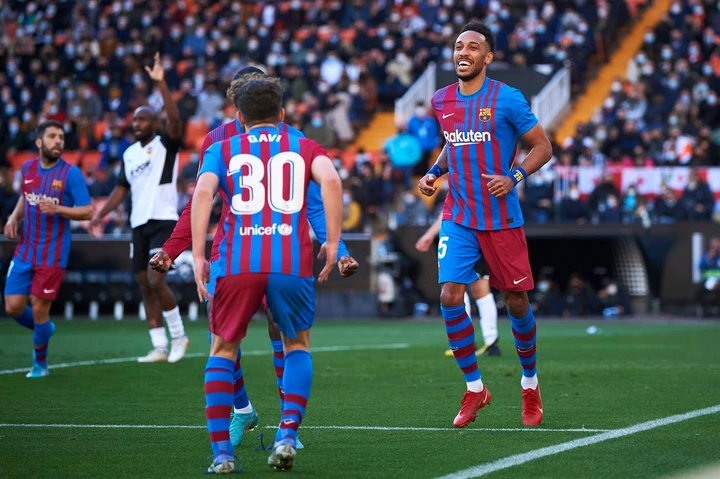 Even the most optimistic Barcelona fan could not have predicted the first half that we witnessed at Mestalla. In the first 45 minutes, Barcelona was just stunning, passing their way out of Valencia's high press and moving the ball quickly from side to side to find spaces and create chances.
The entire front six was on point, with the three midfielders passing the ball expertly and making timely runs behind the defense, and the front three continuously confounding Valencia's defense with their movement.
Barcelona was also ruthless in front of goal, scoring three goals with their only three shots of the half: the first came after a brilliant long ball by Jordi Alba and a glorious finish by Pierre-Emerick Aubameyang for his first Barcelona goal; the second came after another brilliant pass by Alba to find Ousmane Dembélé, who gave Frenkie De Jong a tap-in; and the third came after a sensational team move with a beautiful pass by.
This is without a doubt Barcelona's best performance, and perhaps Xavi's entire season. It was a comprehensive game played in a very difficult environment, and it was a serious message about Barcelona's intentions to finish in the top four.
José Bordalás' side refused to give up and pressed forward, creating a couple of decent chances, but Ter Stegen was attentive and prevented a second goal. Barça performed an outstanding job of controlling the ball and running out the time in the final 15 minutes, and the Blaugrana win was confirmed when the final whistle blew.